To purchase original works by Arnold Rönnebeck
Conner Rosenkranz, LLC
New York, New York
By Appointment Only
www.crsculpture.com
Tel: (212) 517-3710
Email: info@crsculpture.com
Selected inventory of available works from Conner-Rosenkranz.
David Cook Galleries
1637 Wazee Street
Denver, Colorado 80202
davidcookgalleries.com
(303) 623-8181
Email: info@davidcookgalleries.com
Selected inventory of Colorado and New Mexico works available from David Cook Galleries.
To purchase a reproduction of Arnold Rönnebeck's work
Museums.co produces high-quality digital reproductions of museum and private collection content. A reproduction of Arnold Rönnebeck's 1931 print, Brooklyn Bridge, is included amongst other noted artists of the period, such as O'Keeffe, Demuth and Hartley. A small portion of any purchases of Rönnebeck's work made by following this link go to help maintain this website.
Archival Materials
The Beinecke Rare Book and Manuscript Library
Yale University
121 Wall Street New Haven, Connecticut 06511
The Arnold Rönnebeck papers at the Beinecke Rare Book and Manuscript Library contain correspondence, manuscripts, artwork, photographs, and printed and other materials documenting the career and life of Arnold Rönnebeck. Correspondence in the collection includes letters from other artists, family, and organizations, and includes letters from well-known modernist-era artists, such as George Grosz, Marsden Hartley, Wassily Kandinsky, Georgia O'Keeffe, and Alfred Stieglitz. Manuscripts include notebooks, journals Rönnebeck kept while in Paris from 1910 to 1912, and loose notes. Original artwork in the collection includes lithographs and busts of Hartley. Photographs include images of Rönnebeck's sculptures and the artwork of others, images of the artist at work and with other people, and images from the war years, 1914 through 1917, such as urban and rural landscapes, architectural sites of interest, and soldiers. Printed materials include art catalogs, ephemera, and clippings, and other materials include biographical information, personal papers, and childhood sketchbooks.
Finding Aid for the Arnold Rönnebeck Papers at the Beinecke Rare Book and Manuscript Library.
Also at the Beinecke please see the correspondence in the Marsden Hartley Collection, The Stieglitz (Alfred) and Georgia O'Keeffe Archive and the Stein (Gertrude) and Alice B. Toklas Papers.
Archives of American Art
Smithsonian Institution
750 9th Street, NW, Suite 2200
Washington, DC 20001
The papers of sculptor Arnold Rönnebeck and painter Louise Emerson Ronnebeck measure 4.24 linear feet and date from 1884-2002. The collection contains biographical material, family and professional correspondence, sketches and drawings, writings, a scrapbook, and printed material. There are also numerous photographic prints, copy prints, negatives, and 7 glass plate negatives of the Rönnebecks and their artwork, travels, family, and friends, including Charles Demuth, Marsden Hartley, Alfred Stieglitz, and Tony Luhan.
Finding Aid for the Arnold Rönnebeck and Louise Emerson Ronnebeck papers, 1884-2001 at the Archives of American Art.
George Grosz Papers
Houghton Library – Harvard College Library
Harvard University
Cambridge, Massachusetts
German-born artist, George Grosz (1893-1959), best known for his satirical caricatures of life in Berlin in the 1920s, immigrated to the US in 1933. Collection includes 53 letters from Grosz to Ronnebeck and 17 letters from Ronnebeck to Grosz, 1930s-1940s. Correspondence likely in German. Finding Aid.
John Gaw Meem Job Files 1925-1960
Center for Southwest Research
University Libraries, University of New Mexico
Albuquerque, New Mexico
The John Gaw Meem Job Files 1925-1960 contain architect Meem's files relating to his architectural projects in Santa Fe and Albuquerque. Included in these files are approximately 18 letters exchanged during 1927 and 1928 between Rönnebeck and Meem concerning execution and payment for Rönnebeck's terra cotta relief panels for La Fonda in Santa Fe, New Mexico. Finding Aid.
For information about Louise Emerson Ronnebeck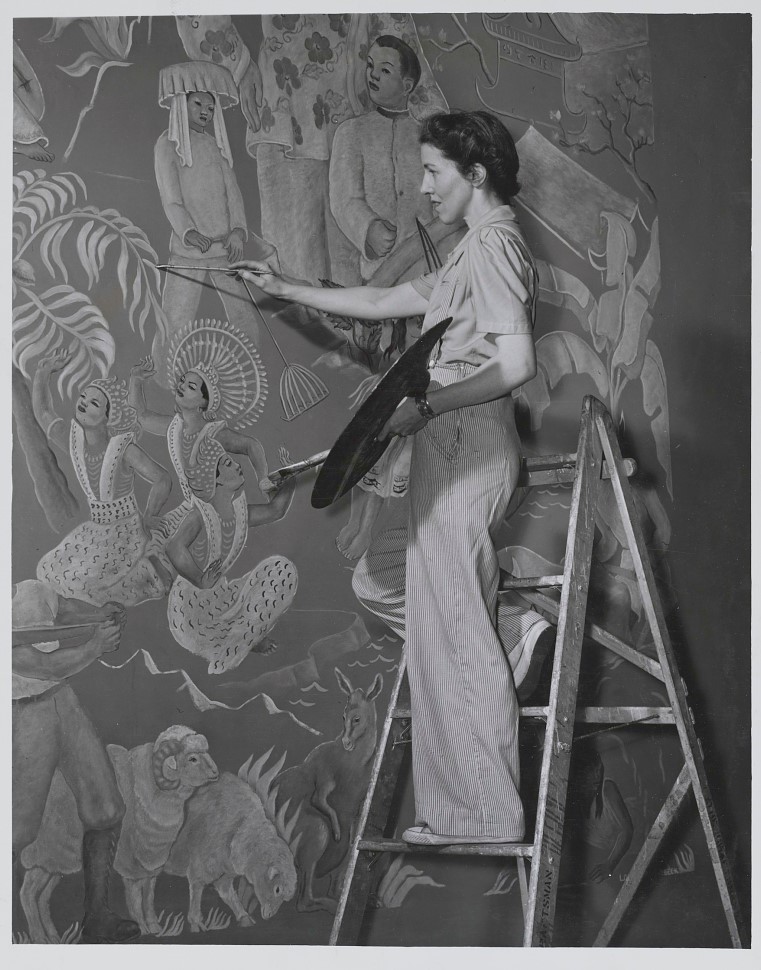 For information about the work of Louise Ronnebeck (1901-1980), please see her website.