Has it been 100 years already? Why yes, yes it has. What was Arnold Rönnebeck creating 100 years ago? Where was he? What was he doing?
In this space over the next several years we will be celebrating what Arnold Rönnebeck was creating 100 years ago, beginning in 1921.
1921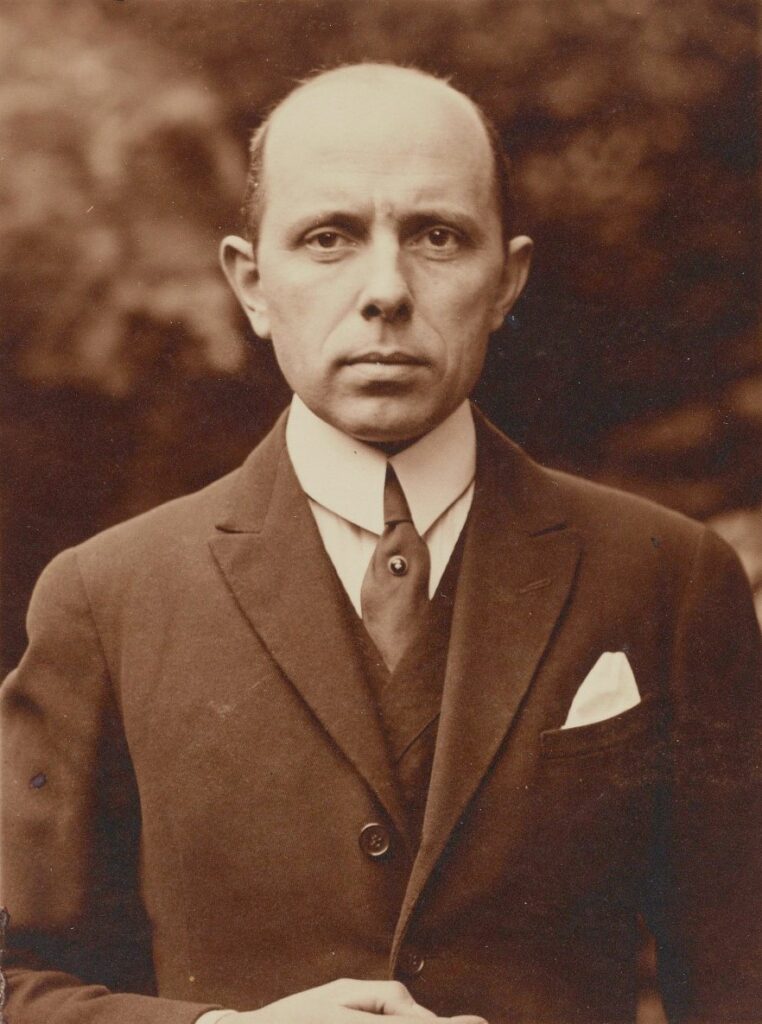 While Rönnebeck had been studying, working and creating art since childhood and during his art school years (1906-1913), it wasn't until 1921 that we have examples of a more consistent output. We are aware of a handful of pieces executed prior to World War 1. His Isadora Duncan drawings of 1912, bronze head of Hartley from 1913 and pear wood Crucifixion from 1914 come to mind. There are likely earlier pieces are out there, but they are somewhere in Europe. If anyone has any early Rönnebeck works, please share your photos with us. We would love to see them!
After serving in the German military during World War I, Rönnebeck returned to Berlin and established himself as a portrait sculptor. He had a studio in the Friedenau area at Offenbacher Strasse 3 (building now demolished). His parents lived across town in the Halensee area at Johann-Georg Strasse 20. Beginning in 1913, Hartley was a frequent guest at the Johann-Georg Strasse home, and In November of 1921, he stayed with them for a month. In an undated (possibly 1943) letter to Leon Tebbetts, Rönnebeck wrote, of Hartley and this period:
" . . . He adored my mother and loved to light her cigarette for her. He had his 'cozy corner' on the sofa and he would snuggle into it like a question mark, all curled up with a long cigarett (sic) holder and father would ring for the maid and simply say: 'that Bordeaux 1920' and Marsden would curl around the other way and simply exclaim: 'Wunderbar wunderbar!".
Hartley moved to his own apartment at 150 Kantstrasse, Berlin, in December of 1921.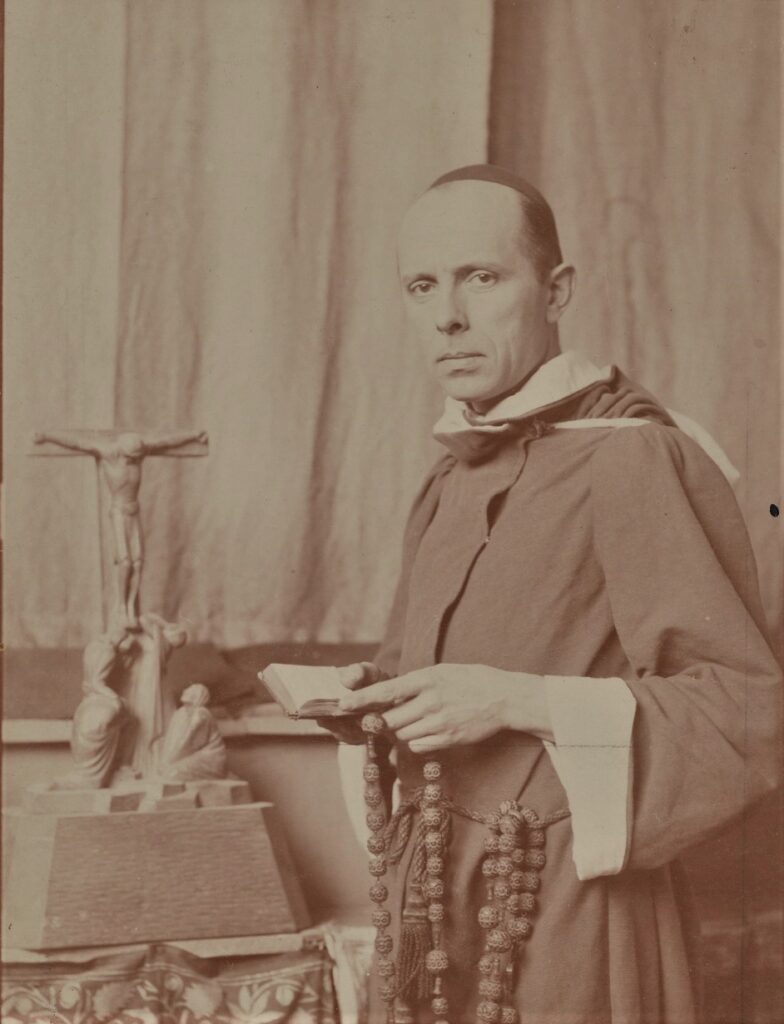 His wartime experience caused him to suffer deeply. He was wounded in October of 1914. His cousin, Karl von Freyburg, was killed the same month. He had seen and experienced some horrific things. To help him recover from the emotional effects of the war, he took an extended trip to Italy. He spent some time at the monastery in Fiesole overlooking Florence, finding it emotionally and spiritually healing, and he briefly contemplated becoming a monk. He affected the wearing of a monk's robe at two points in his life. First in 1921-1922 (shown left) inspired by his experience at Fiesole. The second, near the end of his life in response to the Second World War. He enjoyed Rome and Florence for its art and history, but did not find it as inspiring as the south. While in southern Italy he executed many pencil drawings of Positano and the Amalfi Coast. He described his experience in a June 1, 1924 interview by Viktor Flambeau at the Washington Herald, entitled Rönnebeck, Expressionist Sculptor, Makes Home in Washington:
"The scenery was like one enormous work of sculpture, houses and rocks seemingly as one. … Nevertheless the lithographs are portraits of the actual landscape, not inventions of the imagination. Here it was. Where Empedocles was born, that I made my first landscape drawings, after which followed a cycle of lithographs".
This was Rönnebeck's first foray into lithography, a medium in which he would continue to work and for which he would win awards throughout his career. He created a series of ten lithographs depicting Positano and southern Italy between 1921 and 1922.
While he was newly inspired with printmaking, his preferred medium remained sculpture. Following is a small selection of his sculptural work from 1921: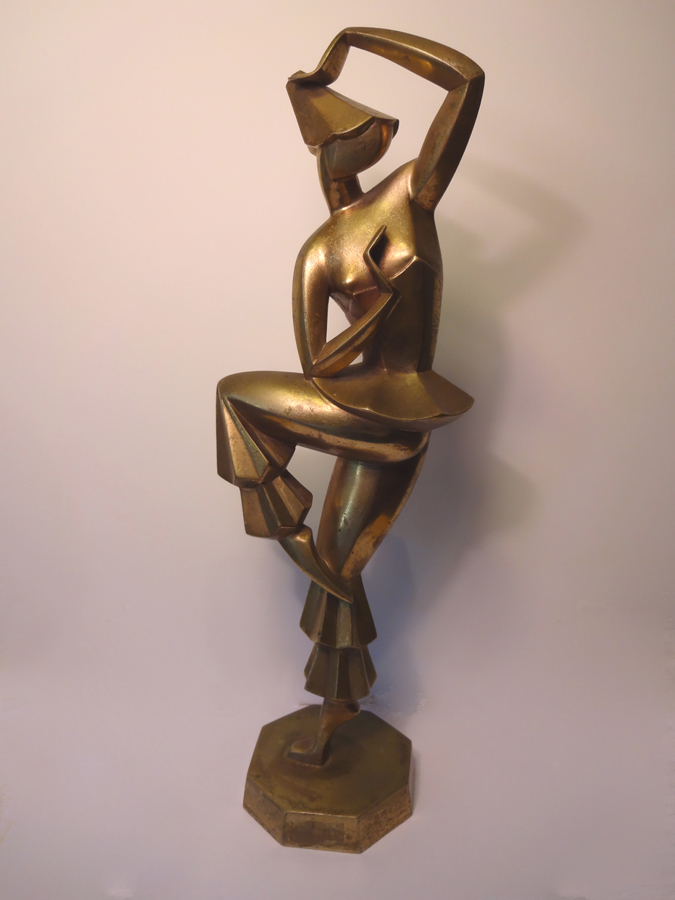 The Dancer, sometimes known as The Harlequin, was executed in 1921 and cast in brass at the H. Noack Foundry in the Friedenau district in Berlin. This piece and others of a similar style had pared down forms with cubist influences. This piece was sometimes described as an "expressionist Pierrot". We don't know that much about its creation, but Rönnebeck seemed to be inspired by dance and dancers quite frequently. He executed many drawings and watercolors of Isadora Duncan in 1912, a set of relief panels of nude dancers in 1919, as well as this brass Dancer and several other Dancers in plaster likely in 1921, as well. The location of the plaster Dancers is unknown. This brass Dancer must have meant something to him because he brought it with him when he left Germany for the US in November of 1923.
Following are a few notable stops on The Dancer's exhibition history: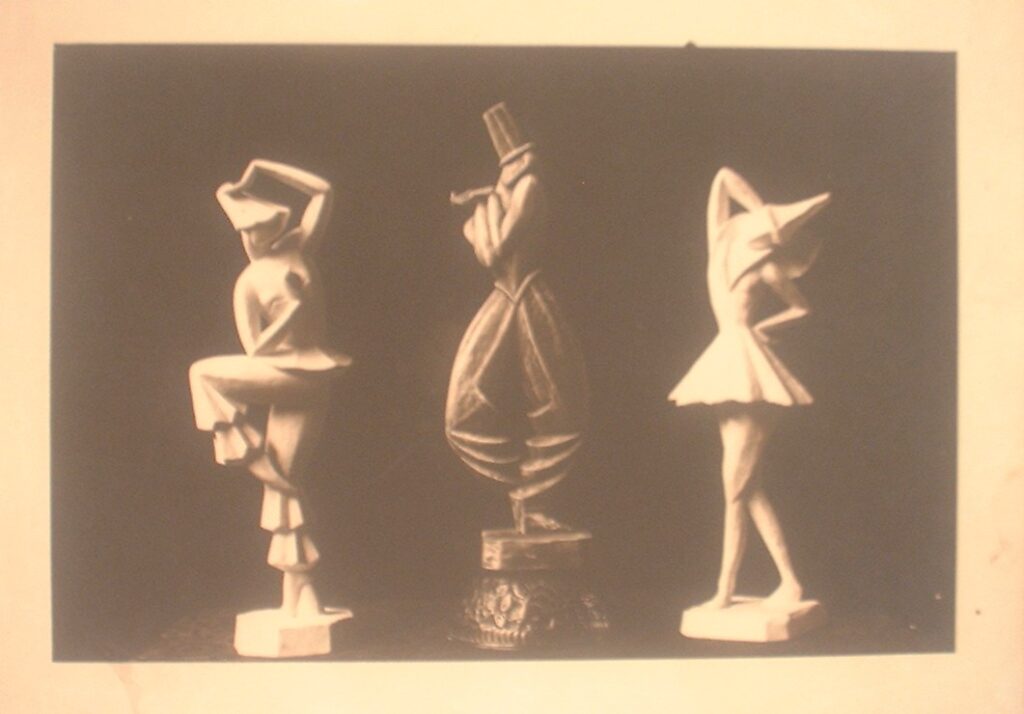 1925: Weyhe Gallery, New York. In April Rönnebeck had a one-man with show at Weyhe Gallery featuring sixty (60) works. There were 27 sculptures in the show, including three Dancers. In 1926 this exhibition traveled to the Los Angeles, San Diego and Omaha. The brass Dancer was one and we aren't sure exactly which ones the other two are, but they may be the plaster pieces shown center and right in this undated photo.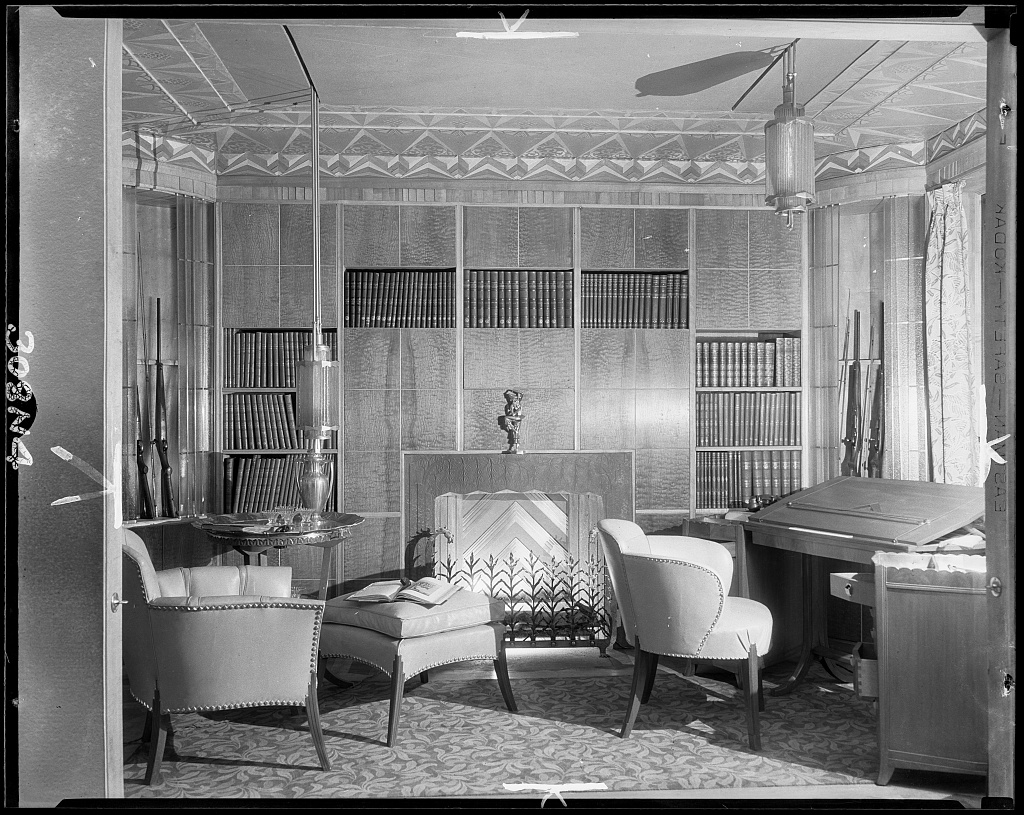 1929: Metropolitan Museum of Art, New York. The Dancer was shown in the Met's exhibition "The Architect and Industrial Arts Exhibition of Contemporary American Design" from February 12 to March 24 and continued to September 2, 1929. It was prominently displayed on the mantle in architect Ralph T. Walker's exhibit, "Man's Study for a Country House". In the accompanying exhibition catalog, Walker wrote of the purpose of a room, "In it space elements should be so designed as to engender time elements, through which appreciation can be led from one thought to another, forming a stimulus toward, and an opportunity for, fresh viewpoints, and so encouraging a more continuous period of appreciation".
Photo at right is by Sigurd Fischer and is in the Library of Congress, item LC-FS13- 308-N4 [P&P].
1934: Century of Progress – Chicago World's Fair. Rönnebeck was a little frustrated with its inclusion in the fair, as he would have preferred to exhibit something more contemporary. In an April 10, 1934 letter to Robert D. Harshe, Director of the Art Institute of Chicago and curator of the Century of Progress art exhibition, he wrote: "Personally, I regret that a piece of mine of such old vintage has been chosen, a piece which has been exhibited many times before . . . ". In The Dancer's stead, Rönnebeck proposed his 1932 work Waste, which was a "protest against war". In his April 13, 1934 response, Harshe gave no reason for the preference of The Dancer over Waste, only saying it "it will not be possible to exchange the group for it". Perhaps Waste was considered too political. This work is in a private collection.
Other sculptures from 1921: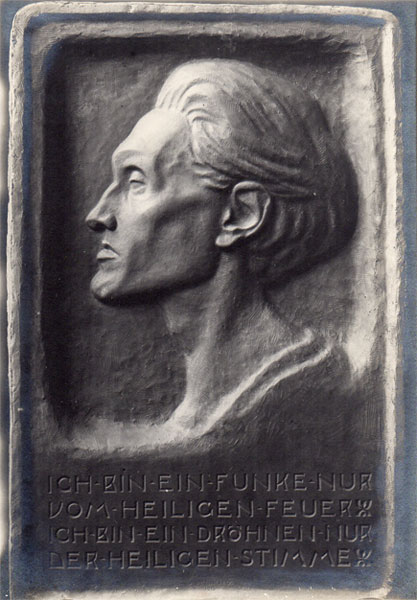 Portrait of Stefan Anton George, plaster.  George was a German symbolist poet (1868-1933).  Underneath the dramatic profile of George are the words "Ich bin ein Funke nur, vom heiligen-Feuer, Ich bin ein Drohnen nur der heiligen Stimme".  These are the last two lines of from George's 1908 poem, Entruckung.   It roughly translates to:  "I am only a spark of the holy fire. I am only a whisper of the holy voice."  In 1909, Arnold Schoenberg was inspired by the poem and used it in the third and fourth movements of his 1909 String Quartet No. 2.  
The circumstances of how Rönnebeck received this commission are unknown, but Rönnebeck was acquainted with several other German poets during this period, including Max Sidow (1897-1965) and Theodor Daubler (1876-1934). The location of this work is unknown.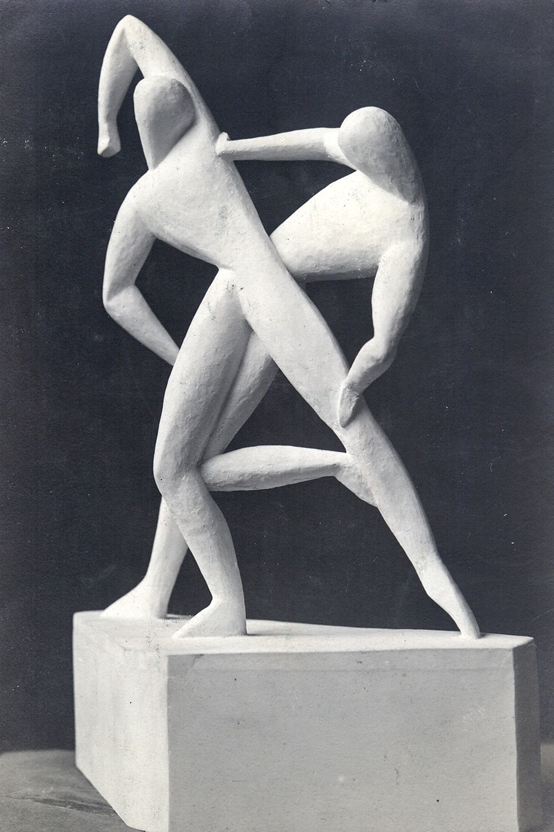 The Combatants is also known as Composition of Rhythmically Arranged Volumes.  Shown here in plaster, c1921, it was later cast in bronze at Kunst Foundry in New York, probably 1924 or 1925.  Like the Dancer, he brought the plaster version with him from Germany to the US in 1923.  It was exhibited in his 1925 Weyhe Gallery show and was part of the selected works that traveled to exhibitions in San Diego, Los Angeles and Omaha in 1926. The bronze is in a private collection.    
Poet Theodor Daubler wrote an article about Rönnebeck's work in the April/May 1921 edition of Deutsche Kunst und Dekoration, see below. The article featured reproductions of Rönnebeck's Head of Max Sidow (date unknown, possibly 1919), Combatants, Hermaphrodite (1919, based on Max Sidow's poem of the same name), and three plasters of what were sometimes called his "Dancing Grotesques".
This is a brief overview of just some of the work Arnold Rönnebeck created in 1921. Check back with us in 2022 to find out what was happening in 1922.